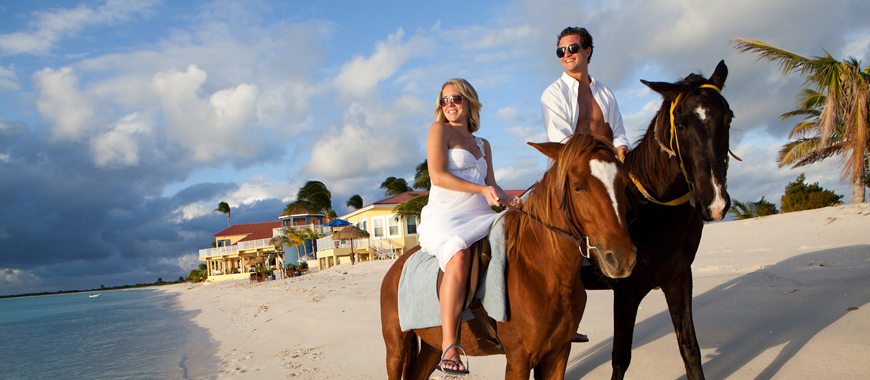 Fulfill your dream of horseback riding on the beach and into the shallow waters with a backdrop of white sand and turquoise water. Ride with us along quiet dirt roads, canals and secluded beaches of Long Bay Hills, Providenciales in the beautiful Turks and Caicos Islands. Reserve well ahead during peak season (Dec-May) to ensure you don't miss this unforgetable riding experience!!!
Horse Riding Turks and Caicos – Provo Ponies is a small horseback riding stable located on the southeast end of the island of Providenciales. We have two guided horseback rides Monday through Friday. Saturdays are reserved for teaching and Sundays are the horses day off. The morning ride is at 9:30am and the afternoon ride at 3:00pm during winter hours, 4:00pm during the summer. We can take all experience levels from 6 years old and up. There is an extra charge if someone must be led. Everyone rides their own horse or pony, no double riding. We have a 200(ish) pound weight limit. Groups are never more than 12 riders. Private horseback rides are available for an additional fee. Helmets are available and are required for children 17 and under.
We ride our horses and ponies along quiet dirt roads and trails to Long Bay Beach, a 4 mile long secluded beach. We don't do nose to tail type rides. More experienced riders are given the chance to trot or canter if conditions allow it. (We don't canter the horses at high tide when the sand on the waters edge is deep. See the Tide Chart link on the contact page). The shallow waters of the Caicos Banks off Long Bay Beach make it an ideal place to take your horse into the ocean. You can book a one hour ride for $75 per person or a 90 minute ride for $90 per person. We can arrange transportation to and from your hotel for an additional 10$ per person round trip. We recommend wearing long pants and full shoes (sports bras for the ladies and briefs for the men may make your ride more comfortable too!!) If you want to bring a camera we provide fanny packs and will take pictures for you once we arrive at the beach.