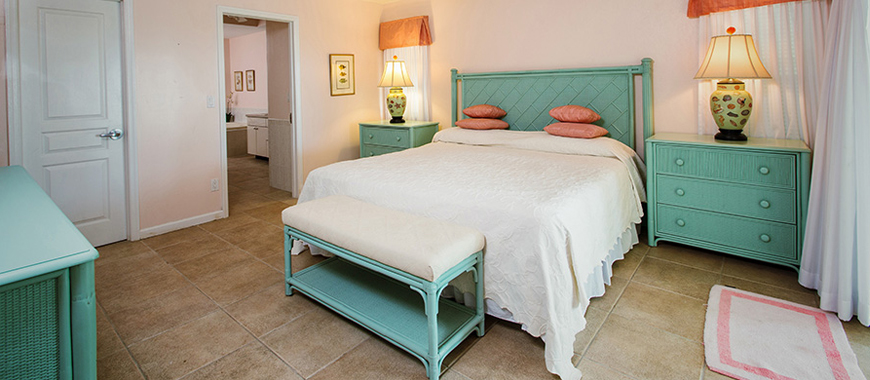 Turks and Caicos Vacation Rentals – Suite Floor Plans, Coral Gardens suites are situated in three separate buildings. Our twelve Oceanfront "Grand" suites are housed in two separate three level buildings, each level containing two suites. Our "Oceanfront" suites are adjacent and west of the other two buildings. These suites are in a three level building with six units on each level.
The spacious one and two bedroom suites are opulently detailed with antiques, wrought iron and wicker. Our Oceanfront "Grand" one and two bedroom suites are beautifully situated and appointed with expansive terraces. These 1975 plus sq. ft. two bedroom suites boast lavish bathrooms, fully equipped kitchens, dining room, walk-in closets, washer and dryer and all the modern amenities. The one bedroom suite has the same amenities and is over 1720 sq. ft. in size.
Our Oceanfront one and two bedroom suites are beautifully decorated and have fabulous unobstructed views of ocean and bay with magnificent sunsets. The two bedroom is a spacious 1324 plus sq. ft. while the one bedroom is over 950 sq. ft. All are equipped with kitchen tables or breakfast counters, powder room, bedroom with ensuite and large patios with sliding glass doors which glide into the wall.
Two Bedroom Penthouse And Ocean Grand Suites
One Bedroom Penthouse And Ocean Grand Suite
Two Bedroom Ocean Grand Suite
One Bedroom Ocean Grand Suite
Two Bedroom Ocean Suite
One Bedroom Ocean Suite
One Bedroom Garden Room