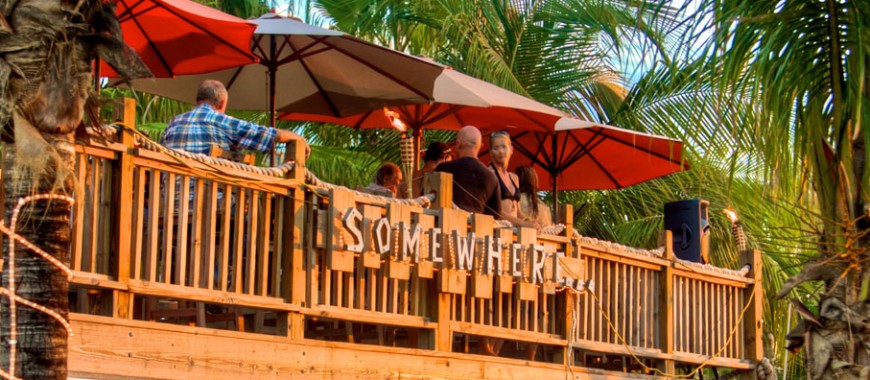 Coral Gardens Turks and Caicos – amenities include one, two and three bedroom suites, two pools, on-site restaurant, fully equipped fitness centre and spa.
The Somewhere Café and Lounge is a laid-back hip oasis on Grace Bay Beach. It prides itself as having the only location on the beach with two floors. The location looks over the beach and ocean and is undoubtedly the best location to watch the sunset. The café serves breakfast, lunch, dinner and offers refreshing cocktails with a varying selection of coffee and teas from two full service bars. The food served at Somewhere consists of simple, fast, fresh delicious menu items with a Tex-Mex theme.
The recently renovated space brings a new addition to the Turks and Caicos Islands. Its open-air design lends to a funky hip café feeling combining the outdoors with comfort to the patrons, both the local population and tourist visiting the island. The wood tables and chairs with its concrete bar-tops give the Café its Caribbean characteristics. The roof top deck and lounge area allow one to relax in day-beds, reviving beachside lounges throughout the world. The space is unique and provides comfort to those wearing shoes or coming in barefoot.
Turks and Caicos Spa – Guests from the luxurious Coral Gardens resort are more than welcome to use the spa and fitness facilities at Reef Residences, one of the best Turks and Caicos spa resorts and only 5 minute walk away. Escape from the pressures of everyday life to relax, rejuvenate, and re-energize. An intimate, full-service spa offering a variety of European and Asian-influenced treatments that will will insure the fulfillment of your every expectation.
One, two and three bedroom suites
Fully equipped kitchens
Cable TV, CD and DVD players
In-room safe
Air conditioning
Washer/Dryer in Penthouses & Ocean Grand Suites
Ocean Suites have laundry facilities in building
Personal bathrobes, bath amenities & hair dryers
Two pools
Fitness Center
Excursions desk
Casual dining at the Somewhere Café
Convenience store
Dive Shop
Daily maid service
Chaise lounges & beach towels
Free wi-fi & cable Internet access